PowerPoint slides are meant to just show the highlights of your presentation to your audience. It is not acceptable to have too many words packed together in your PowerPoint (PPT) slides, it just doesn't look good and it bores people. This has posed a great challenge to many. This is because, we are not allowed to put all we want to say at the presentation inside our slides but we have so many things to say.
What can be done to tackle this challenge?
I have seen so many people bring notepads to their presentation; pads containing notes to remind them of things they want to say as each slide passes.I have never been a fan of this because it means looking at the paper and looking at the slides on your computer while presenting. One could lose track of where he is on paper.
Adding Notes to PowerPoint Using Presenter View (Audience won't see this)
There is one thing I have always done to my Microsoft PowerPoint presentation that has helped me in having good presentations. I add notes to my slides. I add additional notes that only I (the presenter) can see. Nobody in the audience will see my PowerPoint notes when projected.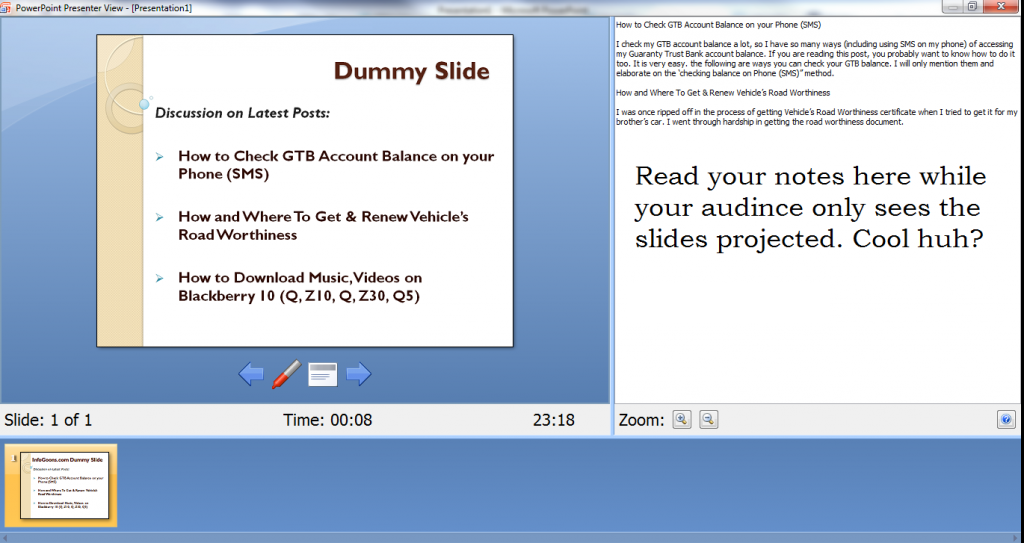 I know you have seen this notes section before while trying to put your PPT presentation together. It is just below every slide while you edit or add content to your PowerPoint slide. Some have told me they added notes but it wouldn't show up during their presentation.
So, how do I add notes to PowerPoint that only I would see?
Adding PowerPoint notes that the audience won't see is very easy using the Presenter View . Some even though that this feature is only available on Microsoft Office 2013. No, this is not right, the presenter view feature is available on MS PowerPoint 200-2003, 2007, 2010, as well as 2013.
How to set up Presenter View for PowerPoint
Microsoft PowerPoint 2007
Under the slideshow tab, in the Monitors section, click Use Presenter View. Then you can choose which monitor to show it on.
Microsoft PowerPoint 2000-2003
Go to the slide show menu. Under that, select Set Up Show. Under Multiple Monitors, check the Show Presenter View box. You can then choose the monitor to project your slides on.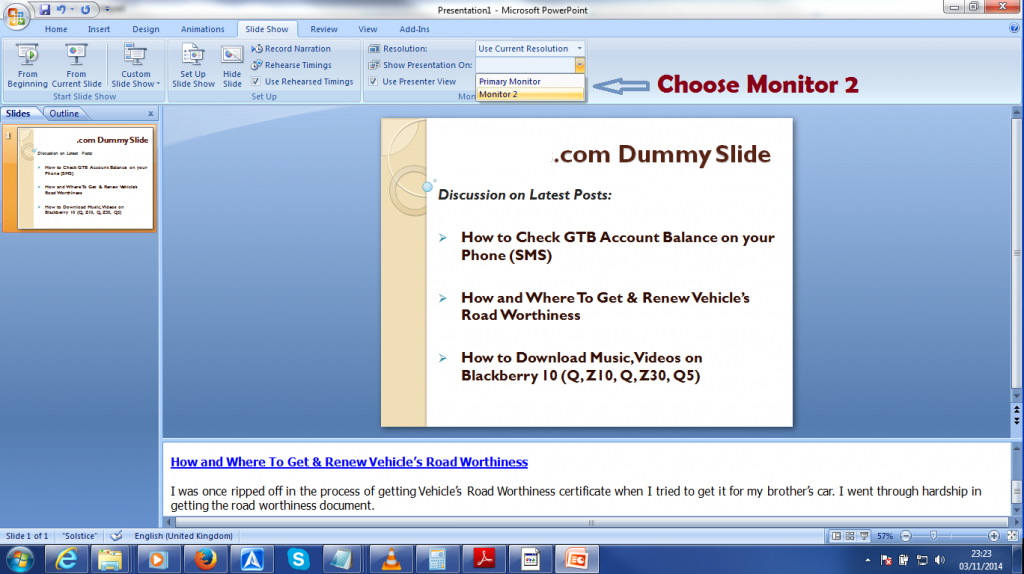 Important Note: To get this feature to work, you need it to connect it to a projector or a second monitor. Without the second monitor, you would not be  allowed to choose the Use Presenter View check box. But there is a way around this. Check the article linked below:
ALSO READ: How to use Presenter View on PowerPoint Without Projector
That is how to add notes to your PowerPoint slides without the audience seeing the note. You can just read it from there as only you would see them.
Get the latest updates from GeekishNG via email