There have been several reports of people getting either electrocuted or seriously injured after their phone exploded while answering calls while charging it. So many messages have been circulated via emails, BBM broadcasts and Whatsapp messages warning people to desist from this act.
Can you truly get hurt from answering plugged in phone?
I would say YES to this. This is not to say that every  phone will explode or get you electrocuted if you pick a call on it while charging but it has happened before. It is not very clear what could cause the explosion or electrocution.
In 2013, the relatives of Ma Ailun, a 23-year-old woman from Northwest China's Xinjiang Uygur Autonomous Region have claimed that the woman died after being electrocuted while using her iPhone. The older sister of the victim said on Sina Weibo, that Ma was electrocuted while trying to answer a call on her iPhone while the device was charging.
In 2014, I saw a post on Facebook that a boy in Mumbai died while receiving a call while the cell phone was charging. Many claimed that the story looked false but I can tell you there is a possibility of that happening. The only conclusion I can make is that the chance of this happening on an original phone and accessories used together from a reputable phone manufacturer is very slim.
Just after Apple announced they were investigating the Ma and iPhone incident, Snopes.com reported that using a cell phone while it is being charged does not pose a serious danger of electrocution. However, cell phone batteries can sometimes explode and start fires. For instance, a spate of cell phone accidents were reported in the news in 2004, including a Malaysian man burnt after his cell phone exploded, a South Korean woman's bed set on fire after her SV-130 phone exploded, and a Siemens C45 left charging for 30 minutes exploded, slightly injuring a bystander in southern Vietnam.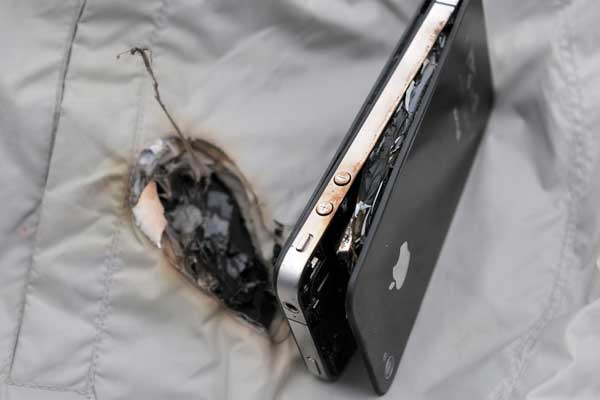 Scott Wolfson, communications director for the U.S. Consumer Product Safety Commission was quoted by the CNN to have said that phones charged from a USB cord have a supply voltage of about 5 volts, not enough to severely harm a person. He said, "We have seen very few incidents related to shock or electrocution (involving cell phones), most of our attention has been on overheating, smoke or fire."
The Guardian however noted, "A current of more than 200mA (0.2A) can be lethal if it passes through the heart. If the charger is not earthed, or if the person taking the call provides a better path for current – say from a damaged wire – then the effect could be lethal. Someone who was wet after a bath might provide just such a pathway for a lethal current."
What we can pick out from all these is that the risk of electrocution from phones such as iPhone, Blackberry and other phones using a USB chord to charge is almost non-existent. However, there is risk of phone batteries catching fire but the risks become greater when someone powers a phone with a substandard or incompatible charger. Some replacement chargers don't have proper insulation, potentially exposing users to overheating, fire or electric shock.
So, what can you do to prevent phone explosion or shock?
For starters, I would not pick a call while my phone is attached to the power source. I would also ensure that I buy my phone accessories from authorized phone and accessories dealers. I wrote an article recently on how to verify Tecno phone and batteries are original. can like that can help keep you and your phone safe.
Get the latest updates from GeekishNG via email