Easily monitor battery life, memory usage, CPU usage and storage space on your Smartphone running on BlackBerry 10 OS version 10.2.1. If you are using a BB phone that is not running on Blackberry 10 OS, you should just head to my article on Blackberry battery power saving tips.
What is the Blackberry Device Monitor?
Device monitor has the features stated above, and with them, BB 10 users can easily determine which application is consuming your Blackberry battery the most, helping you to decide on which application process to kill.
RECOMMENDED: Solution To Blackberry Phones Getting Too Hot
These features are embedded by default in BB10 by default and you do not need to download any third party application to monitor them. Just navigate the path that I will explain in this post to check and use them.
There are even some cool features that should really interest you. One of them is that you can go to battery usage so you can easily identify apps that have a negative impact on your battery life using a particular time frame. For example, you can view battery consumption by application since the last time you charged your device, or by the last 12, 24, or 48 hours.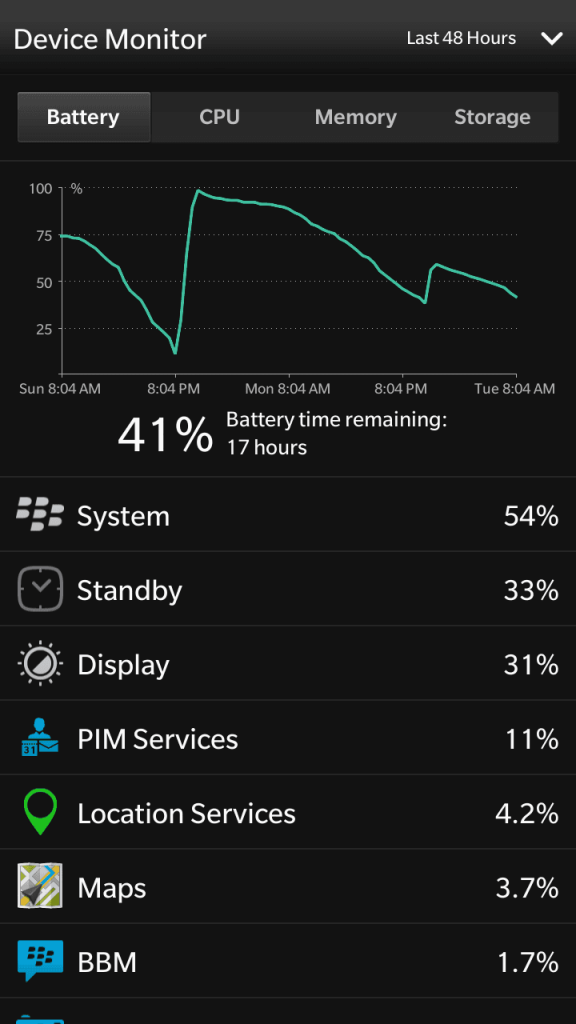 How to open device monitor to check apps consuming battery
On the home screen of your Blackberry 10 phone, swipe down from the top of the screen
Tap Settings, then Quick Settings option
Check the Device Monitor option
Now go to home screen, swipe down from top of the screen and tap the Device Monitor to open it
There are also some other things you can do on the Device Monitor. For example,  when you select an item from the Device Monitor list, you can view additional information such as CPU, memory, mobile network, and Wi-Fi® usage statistics.
Here, you can also view applications that you have installed on your phone and the amount of space those apps have taken up on your Blackberry. You also have the option to delete any of these applications.
Get the latest updates from GeekishNG via email