You can easily hide and lock your Videos, SMS, Contacts, Photos, Facebook and Whatsapp with password on your Android phone. You can also make your phone take the picture of the person trying to access your files with the wrong password.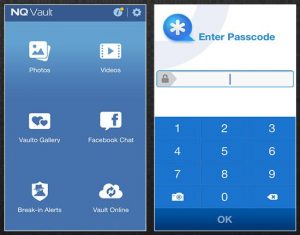 This appl will show you the picture and the password the person tried to use; this is however a premium feature but very very useful. Since the password is whon to you, you know if the person is close to getting your password, and may want to quickly change it.
Vault App for Locking Files, Whatsapp & Facebook
Hide contacts, pictures, videos, SMS, and even Facebook message for free NOW! Keep your private text messages, photos, and videos safely hidden from prying eyes. Use NQ Mobile Vault to create your own password-protected space on your Android where you can encrypt and safely store private contacts, SMS messages, call logs, photos, and videos.
Hide photos and videos
Hide secret messages
Secret contacts
Fake Vault
How To Download and Use NQ Vault App
You can go to the Play Store on your phone and search for the NQ Vault App, download and install it. Alternatively, you can go to http://m.nq.com/en/products/ps/ to download it and start using.
To use this application, open it after installation and setup your password, then tap the 'App Lock".  Tap the "+" icon, select "Whatsapp" (in case of locking Whatsapp) from the list of apps displayed and finally, tap "Lock".
More Features of Vault App
You can also lock apps for Email, Facebook, Skype, Tango, Instagram, Amazon, Candy Crush. You can choose which pictures to hide and you can automatically select all photos and hide them. They will all be protected in a vault for which a correct password must be entered before accessing.
You can also create a fake vault that you can open and show to people who insists on opening the vault (for example, your girlfriend or boyfriend). This one is however a premium feature. This means you have to pay a token to get that feature. There are some more premium features you will enjoy when you pay.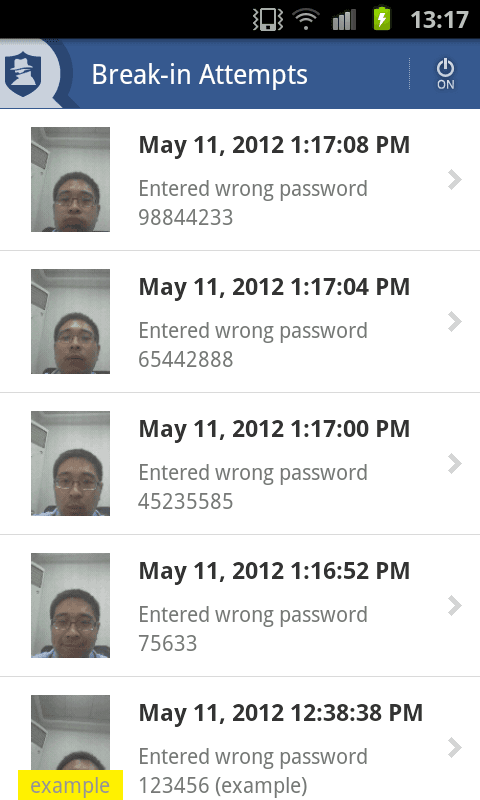 How To Access The Failed Login Attempts/Photos
Log in to your Vault and tap the "Break-In Attempts" icon, you will see when someone tries to access your vault, the wrong password that was used and also the photo of the person who entered it. Check the image above to see an example of how this feature reports to you.
You don't have to buy this application, you can simply use the free features to just lock and hide your apps and media files.
Get the latest updates from GeekishNG via email