There was a time when Tecno was not a recognized (popular) brand and there were so many fake phones and batteries in the market. Tecno changed the way they make their phones and packages, started making phones running on the Android OS and everything changed.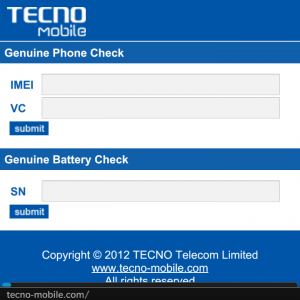 Now, many people use the Tecno phone with pride, unlike before. This has resulted in many other phone brands like Infinix, Innjoo springing up. They are all very cheap too.
How Can I Verify Tecno Phone Is Not Counterfeit
As much as Tecno is trying to make original (genuine) Smartphones, there are rogue companies out there making fake Tecno phones and batteries especially. How do you now check if the Tecno phone you have bought is original or fake? This is very easy to tell by looking at the Package, Seal, the Phone itself and more. Checking genuineness is not easy when it comes to Tecno batteries and any other phone battery at all.
I mentioned some parameters you can check to know if your Tecno phone is original i.e. made by Tecno Mobile, but they are not really easy to detect. They can still be imitated, so I will just show you the most important means of verification – from Tecno Mobile themselves.
How To Check If Tecno Phone Is Original on Tecno Website
Go to Tecno Mobile website at http://gc.tecno-mobile.com/
On the Genuine Phone Check portal, enter IMEI in the first column
Then enter the VC in the second space
Finally, click on the submit button to check if your phone is original
Checking If Tecno Battery Is Fake Or Original
The second portion of the portal is Genuine Battery Check
Enter your battery serial number in the space there
Click on the Submit button
Where do I get the CV and IMEI on my Tecno Phone
Tecno's IMEI number and CV can be checked by removing the battery in your phone. There is a white label in the battery compartment of the phone. Here you can see the two pieces of information. The IMEI numbers can be seen on the box of your Tecno phone too.
You can also check the IMEI of Tecno phone by dialling *#06# on the phone.
Where to See Serial Number of Your Tecno's Battery?
Remove the battery from your Tecno Phone, turn it around and you will see the S/N on the back.
That's how to check the genuineness of your Tecno Android phone. Enjoy!!!
Get the latest updates from GeekishNG via email