These are the MTN internet settings, including APN configuration that you need for some mobile phones and modems to connect to the internet. Ordinarily, mobile phones should be able to obtain MTN internet configuration automatically when MTN SIM card has been mounted on the phone.
However, from time to time we encounter mobile phones that require you to input Access Point Network (APN) settings before phone is able to work with the mobile network. Fortunately, this isn't a complex task to carry out. Creating a MTN internet setting profile on mobile phones is straightforward.
For internet modems/dongles that are connected to computers to get access to internet, what you need to do may vary depending on type of modem, where and how you got it. For a Modem you purchased from MTN, you'd probably be able to use it only with MTN SIMs and this should work without creating any manual settings. If you need to use it with another SIM, you need to unlock it. If you use a Universal modem, the modem might be able to request MTN network settings automatically, otherwise, you may need to supply the settings.
How To Configure MTN Internet Settings on Phones and Modems
If you need to manually configure your phone or modem to work with MTN network, please follow these simple steps to get ready to connect to internet. Here is the right internet settings for your device.
If you're not using an MTN-branded device, you can request for MTN's internet browsing settings (also referred to as APN settings or packet data settings on some phones) by doing the following:
Type the word "SETTINGS" as SMS and send to 3888, free of charge (this is for phone). The settings will be sent to you by SMS, you can then save the settings as soon as it is delivered to your phone.
For phones (e.g. iPhones, Windows-based handsets and some Android Phones, etc.) or other devices (like your modem) that need to be configured manually, you will need to configure the data settings with the settings information provided below.
Configuration for Mobile Phones
Go to Settings on your phone and find internet settings (navigation to internet settings will be different from phone to phone, especially Android Phone). They will however be largely similar.
On Android phone, go to Settings >> Networks >> Tethering & Networks >> Mobile Networks >>Access Point Names >> New APN, then enter the MTN WEB settings below.
To Configure, MTN Internet Settings on iPhone, go to Settings >> Cellular >> Cellular Data Options >> Cellular Data Network, then enter the MTN WEB settings below.
For modem configuration, see screenshot below;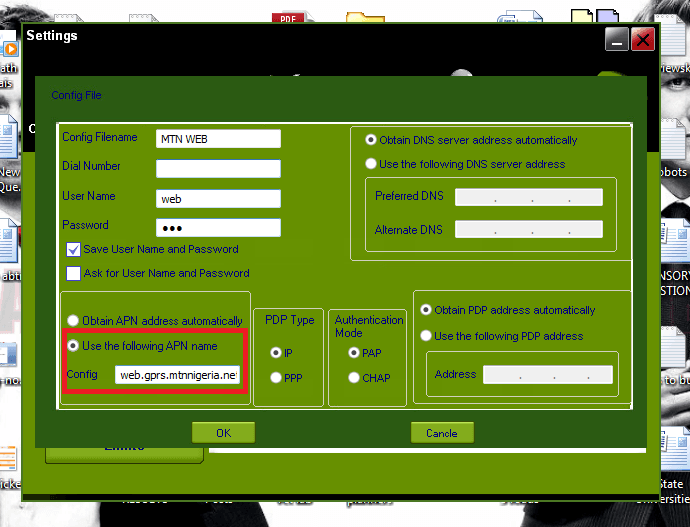 MTN WEB settings – for smartphones ( iOS and Android)
Account Name: MTN WEB
Port:
Username:
Password:
Access point name (APN): web.gprs.mtnnigeria.net
WAP settings – for WAP/Feature phones
You should leave the Port, Username and Password fields empty. Some people put "web" as username and password but I don't think this is important. If you leave the fields empty and it does not work, you can input web. For devices that require IP address and Proxy Port, use the following MTN internet browsing settings.
Account Name: MTN WAP
IP address (Proxy): 10.199.212.2
Port: 9201
Username: web
Password: web
Access Point Name (APN): web.gprs.mtnnigeria.net
If you still have challenges setting up your phone, please visit the nearest MTN Service Center or Call 180.
After you have fully configured your MTN phone or modem for internet browsing, you may need to subscribe to a MTN Internet Data Plan. Click that link to see all available bundles and their subscription codes.
Get the latest updates from GeekishNG via email