At every point, I always have an application that I can play Music with and at the same time shows the lyrics (both on PC and phone). I used TuneWiki on my Blackberry 9700 for a long time. This application would make you stay glued to your phone for a long time as you listen and read lyrics of songs on your phone. It would keep you entertained and even make you laugh when you get to know you have been singing the songs with the wrong lyrics.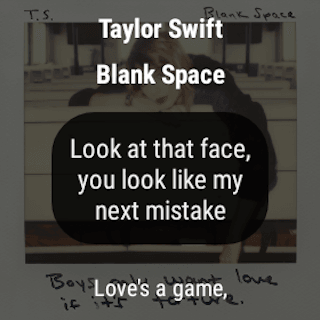 TuneWiki: a very nice application to have. You won't want to leave the application when you open it. It's just hard to switch to other apps not because it doesn't have the feature but because it is captivating enough to keep you glued to it.
This application plays music files that you have on your phone and connects to the internet to get it's lyrics. It synchronizes the lyrics with the song for your listening and reading pleasure. This application also lets you explore Song Maps and real-time Top Charts to discover popular songs nearby and around the world, easily Share lyrics with your network of friends, get lyrics of songs as they play and also get lyrics instantly translated into 40+ languages.
The sad part is that TuneWiki is no more. It was retired by the app developers as they were finding it difficult to stay afloat. It is really sad to see such an app go just like that.
MiniLyrics  – Alternative App to TuneWiki:
I did some research and stumbled on this new application. It doesn't look fine and clean like TuneWiki but it does the job. The name of this application is MiniLyrics, and it is cross-platform. What this means is that it works on so many devices and with so many music players – both on Computers and Mobile Phones.
About the MiniLyrics Application for showing Music Lyrics
Lyrics plugin software for iTunes, Windows Media Player, Winamp, etc. You needn't change the way of enjoying music.
Display scrolling lyrics, you can follow along with the artist and catch every word.
Automatically search and download lyrics.
Huge lyrics database, and it is expanding every day.
Download and save lyrics in your song files, you can view these lyrics on your iPod or iPhone.
Amazing translucency skins.
Cross-platform, support Windows, Mac and Android.
You can download the application for your device by clicking here. I have not gotten an application that works with Blackberry this way yet but the search still continues. Only PC users will enjoy this application because it is also not Free for Android users. It costs $2 to download in the play store.
Play Music and Show Lyrics on Blackberry – BaamBoo Player
Have basic playback functions as the default media player, playing music library in your device storage. Provide some extra features:
– Support browsing music by folders (premium version), exclude folders that use don't want to load music from.
– Auto search and cache missing cover art base on metadata in the mp3 files
– Synchronize the lyrics while player is playing, auto search for missing
You can download the application by clicking the following link: Download Baamboo Player for Blackberry. It works for all Blackberry phones before BB10. This application does not work with Blackberry 10. We will add a link as soon as we get one working for Blackberry 10.
If you use an iPhone the feature is already available on Apple Music. You can also check out LyricsMania and use it to get lyrics of songs you play. You can also use it to know the title of a song that is playing, including the artist that sang it.
So, you don't have to ask anyone to know the title of a song that is playing on the radio or elsewhere.
Get the latest updates from GeekishNG via email