Using NTEL Wawu SIM Card and its data plans is arguably the cheapest way to get access to internet in Nigeria today. This post will show you how to get NTEL Wawu SIM card and subscribe to its data plan (subscription codes).
UPDATE: As at 2nd January 2019, nTel WAWU data plans prices and subscription validity have changed. Scroll to the end of the post to see the new bundles.

Generally, they increased the prices, reduced the allocated data in some cases and reduced the validity.
ALSO SEE: mynTel.com.ng Not Opening: Here's How To Activate Date.
I will first show you how to get FREE 23GB when you first buy and activate the SIM with just One Thousand Naira only N1,000. It  offers you an extra 500% data bonus when you purchase a data plan.
Did you know that you can get 10GB data for 1000 Naira and about 28GB of data for only N2,500. Yes, you read that right – Two Thousand, Five Hundred Naira only – and that is happening on NTEL right now. You can compare with Glo Data Plan – which so many people normally claim are very cheap or affordable.
I have been using nTel for more than two years myself and I have fallen in love with the network. The problem I have had (or have) with them is the incessant increase of cost of data plans. It started from N10,000 and we are currently paying for N17,500. Although the allocated data is "unlimited", I feel getting the nTel Wawu SIM would save me some money (28GB x 4 = 112GB for only N10,000).
Details of nTel Wawu SIM Card: Subscription Bonuses (Data, Voice, Airtime), Benefits, Validity, Promo Offer, Registration & Activation.
Before you read on, let me inform you that you can only enjoy the benefits of the nTel WAWU promo if you reside in Lagos, Abuja or Port-Harcourt. Those are the only cities with nTel 4G LTE connectivity in Nigeria.
To use nTel Wawu, you need to have a compatible device. nTel SIM cards have been known to not work with many popular phones. Fortunately, it works with smartphones such as Infinix, Tecno, Gionee and Xiaomi used by Nigerians. You can also buy the nTel Mifi or compatible universal wireless modem.
Buying nTel Wawu Sim Card, Registration and Activation
If you are interested in getting this SIM card, go to any nTel office close to you and ask that you want the Wawu SIM card. Two (2) SIM cards will be handed to you. The prices vary at different outlets and I don't know the reason for that.
(1.) One of the SIM cards is pre-loaded with 1GB of data while the second SIM contains the free 10GB data bonus plus 1000 Naira airtime bonus for phone calls.
(2.) You will be charged 1000 Naira for both the sim cards and registration.
(3.) For the registration and activation, basic personal details like Name, Address and Date of Birth (DoB) is required.
nTel Wawu Promo Bonuses, Other Benefits & Validity
Once you buy the SIM card, you need to register and activate it. The following are the benefits you enjoy in terms of the data and voice promo, and validity period:
The first SIM card has a free 1GB data bonus. It is valid for 48 hours (2 days) only.
The second SIM has free 10GB data + 1000 Naira airtime for phone calls to any network in Nigeria (8 Kobo per second) that are both valid for 30 days (a month).
Subsequent data subscription attracts 500% data bonus valid for 1 year.
Call rate for the next 1 year to all Nigerian networks remains 8 K/secs.
How To Get nTel 23GB Data Plan on WAWU SIM
Login to your dashboard on nTel website.
Click on Bundle Purchase and navigate to Data Only Plans >> Choose Wawu 1000 Naira for 2GB >> Use Account Balance as your Payment Option.
You will be given 2GB for 1000 Naira plus 500% bonus ( 500 / 100 x 2GB = 5 x 2GB = 10GB). No need to make any payment as you are using the bonus N1,000 credit given to you.
In total now, you have accumulated 23GB of data: the initial 1GB plus the bonus 10GB that came with the SIM cards. Now you get 2GB for this N1,000 and bonus of 500% on it (10GB). In total, you have 1GB + 10GB + 2Gb + 10GB = 23GB.
UPDATE: At the moment, you cannot subscribe on nTel using the online dashboard. Please see this post on how to do nTel subscription while the subscription portal is down.
You have to get someone who works there to do that for you. In light of this, don't follow the steps above. We will update it when the portal is up again.
How To Subscribe To Data Plans Subsequently on nTel Wawu & Subscription Codes
Below are the data plans, what you get and the subscription codes:
nTel WAWU Old Data Plans, Prices and Subscription Codes
| | | | | |
| --- | --- | --- | --- | --- |
| PLAN | DATA ALLOCATION | BONUS (500%) | PRICE (NGN) | VALIDITY (DAYS) |
| WAWU 2GB | 2GB | 12GB | 1,000 | 30 |
| WAWU 4GB | 4GB | 24GB | 2,500 | 30 |
| WAWU 8GB | 8GB | 48GB | 3,000 | 30 |
| WAWU 16GB | 16GB | 96GB | 7,500 | 30 |
2019 New nTel WAWU Data Plans, Prices, Validity and Subscription Codes
Below are the 2019 Wawu plans and codes for nTel subscription: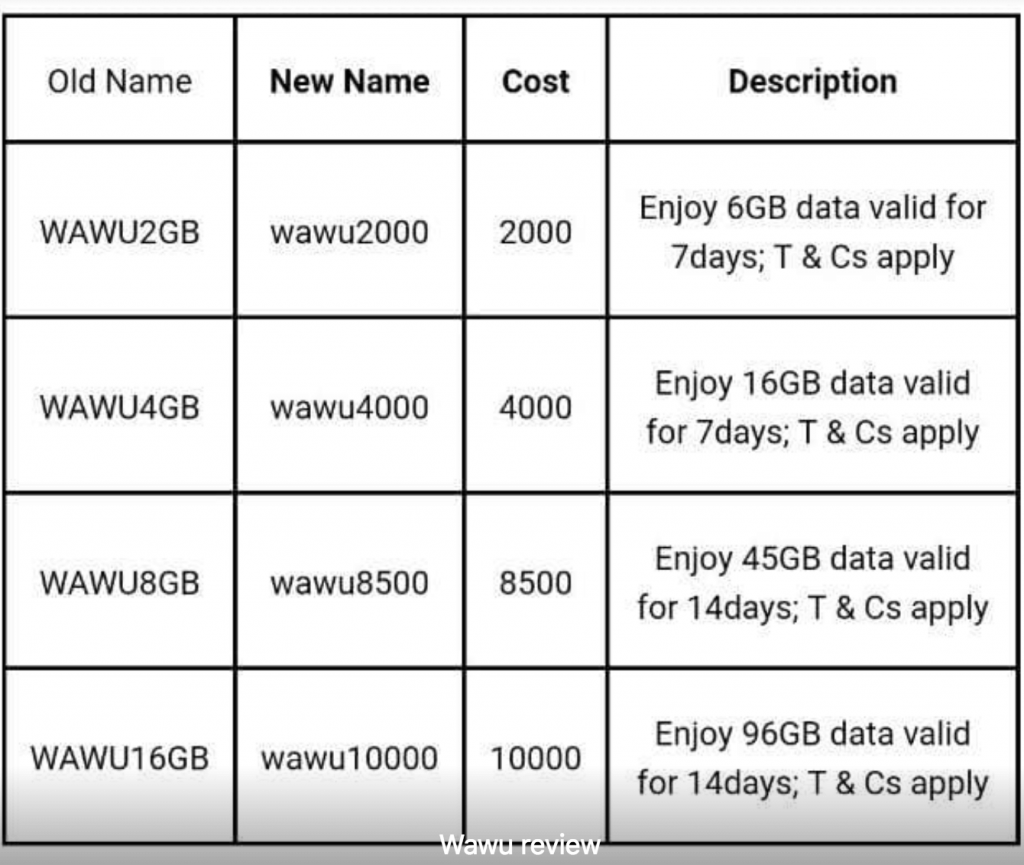 LATEST UPDATE: Prices have been reviewed again. I guess this is as a result of complaints from customers who have shown their anger at the changes.
New January 2019 nTel Wawu Data Plans Review
N3,000 = 8GB = 1 month
N5,000 = 18GB = 1 month
N9500 = 50GB = 1 month
N11,000 = 100GB = 1 month
The WAWU promo was scheduled to end at the end of April of 2018 but for some reasons best known to nTel, the promo is still ongoing. Why not take advantage of it while it lasts?
If you have any question, please leave a message using the comment form and I will definitely reply!!!
Get the latest updates from GeekishNG via email