PayU Nigeria lets you pay Facebook Ads balance in Naira using GTBank MasterCard and other Nigerian Banks Debit Cards. With the continued fall of the Naira to the Dollar and consequently the high exchange rate and scarcity of US Dollars, it has become harder and harder to pay for Facebook Ads online.
Initially, when exchange rate between Naira and US Dollars started getting worse and many Banks in Nigeria stopped customers from using their cards to pay for USD online, a lot of online marketers thought about switching Facebook Ad Account's default currency into Naira. That hasn't gone well because of the Dynamic Currency Conversion (DCC) issue. You can read more on that by clicking that link, it is beyond the scope of this article.
How We have tried to Pay for Facebook Ads Balance
With all these challenges, the only viable option appeared to be getting a Dollar Card (MasterCard or Visa Card) to pay for Facebook Ad bills. This comes with its own challenges too as you have to source for US Dollars (usually from the black market), pay into the Domiciliary Account connected to the card. This can be frustrating too, I have been there.
However, just when we our "Mary Jane Watson" thought all hope was lost, PayU "Peter Parker" came along to rescue us from the situation.
How To Pay for Facebook Ads in Naira with Nigerian Debit Cards (PayU)
PayU Nigeria is a payment gateway which has been integrated with Facebook ads billing system. This way, it makes it easy for Nigerians to pay for Facebook ads in Naira.
First, your Facebook Ad account's currency has to be in Naira. This will enable you to pay for Facebook Ads in Naira. PayU payment gateway basically works by funding your Facebook Ad account in Naira.
What this means is that if you decide to fund your Facebook Ad Account with N15,000 via PayU Nigeria. This amount reflects in your Facebook Manager as the prepaid balance. You can use it to pay for ads at anytime or even add more funds as you require.
To use PayU Nigeria payment gateway, you should go to Billing in your Facebook Ad Manager and try to add another Payment Method. If your Ad Account is Naira, you should see PayU as an option, rather than the Credit/Debit Cards, PayPal and Facebook Coupon options it shows for an account in US Dollars.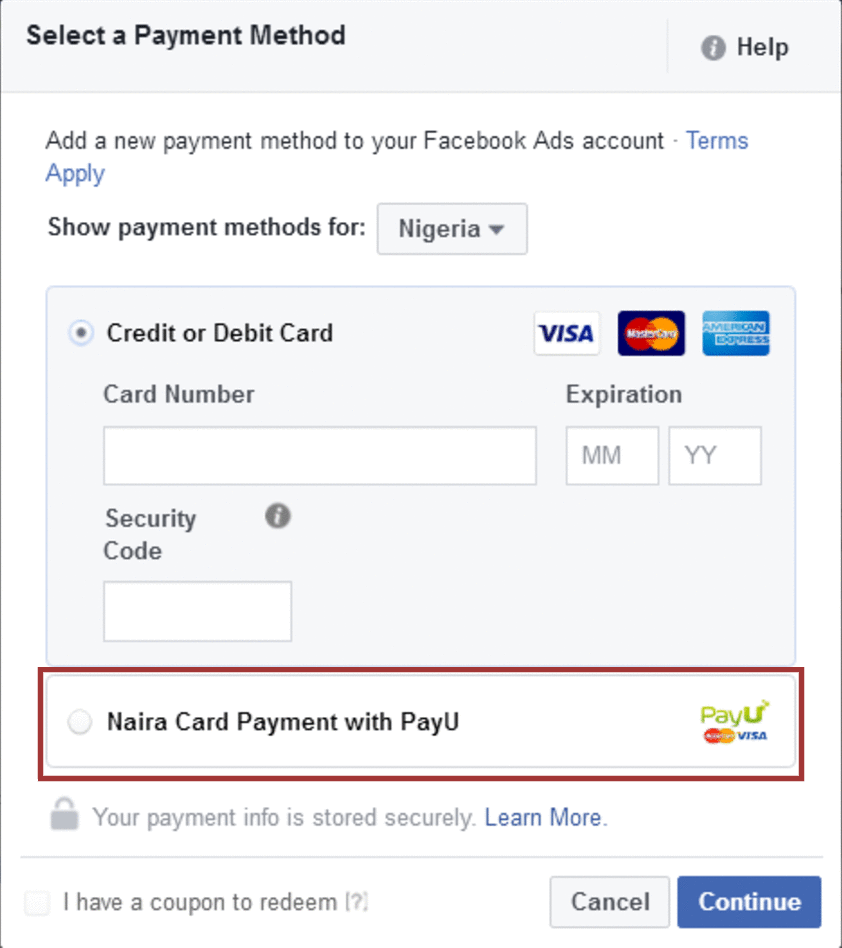 When you attempt to add PayU as a Facebook Ad Payment Method, you should see a sort of Lightbox like the one shown above come up. Go through the process as it meets tour need until you get to the MasterCard SecureCode page. Here, you are required to either supply token (if you have one attached to your account) or use the One-time Password (OTP) method.
I have two account for Facebook Ads – one in Naira and the other in US Dollars. This is how I pay for outstanding Ad balance in Naira on the former.
PayU accepts both MasterCard and VISA debit cards and another good thing is that you can set your daily budget on Facebook Ad manager to as low as N199 per day. Great, isn't it?
Get the latest updates from GeekishNG via email