You can start selling online in minutes and make money without having any products of your own. Starting an eCommerce website to sell product online could easily appear a daunting task to anyone but it doesn't have to be. You don't need to be making any products before you start selling online.
In this article, I will explain the important steps you need to take in order to tap into the money changing hands during online shopping by starting your eCommerce site. This will cover steps from starting the eCommerce website to choosing products, where to source profitable products from, how to get customers, make sales, ship and deliver to customers and get paid.
How To Start Selling Products & Making Money Online With No Products In Minutes
As said earlier, it is going to be like a summary of a series of posts in one place. I will only touch base on all the important steps you need to get started. E-commerce is a very huge topic and cannot be covered in one post. In fact, you get to learn many things on the job but this post will show you what you need to know to get started.
STEP 1: Decide Which Products You Want To Sell
Trust me, starting a full eCommerce site with the intention of selling all types of products might be a wrong move at first. If you are just an individual looking to sell and make money online, I will advise that you start a niche eCommerce website. Choose a niche of products like phone accessories, home decorations, etc. The chance of success is really great this way.
STEP 2: Choose How To Source For Products
This is one of the most difficult part of the whole process. You can decide to source your product locally or from China. Either way, make sure that you make quality products your priority. It's easier to get quality products locally because you get to see them with your own eyes before buying.
However, when you source from China, there is a chance that you will buy low quality products. In fact, you can even be sold low quality products for the price of the top quality. I will write a comprehensive post on sourcing products from China for your eCommerce business.
You can source products from websites such as www.alibaba.com that we all know. Others include www.made-in-china.com, www.globalsources.com, www.tradekey.com, www.diytrade.com, www.ec21.com, www.doba.com, etc.
Many of these products you buy on online shops in Africa are sourced from China. The sellers go to one of the sites mentioned above, search for the product and buy the quantity needed. They then ship those products in using FREE SHIPPING or Express Delivery. It takes longer for your products to get to you but you make more profit when you sell since you are paying little or nothing for shipping.
I dare to tell you that a lot of products you buy on Amazon are imported from China too. There are several grades of products made in China and the top grades are usually the ones you see on Amazon and eBay. If you want to remain in the business for the long haul, you have to buy and sell only the topmost grade.
See an example of a product on Alibaba and then on Amazon below:
This a phone case with battery that charges iPhone 7 when it's switched on. The phone case sells for a maximum of $13 on Alibaba per piece but being sold for $26.90 and up to $39.99 on Amazon. That is a staggering profit of between $13 to $26.99. Many products have that kind of profit margin.
Sample Product and Price on Alibaba.com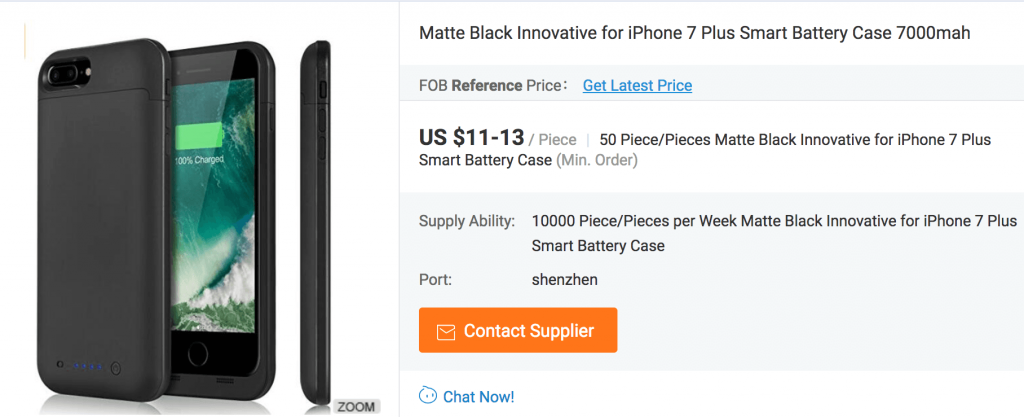 Same Sample Product and Price on Amazon.com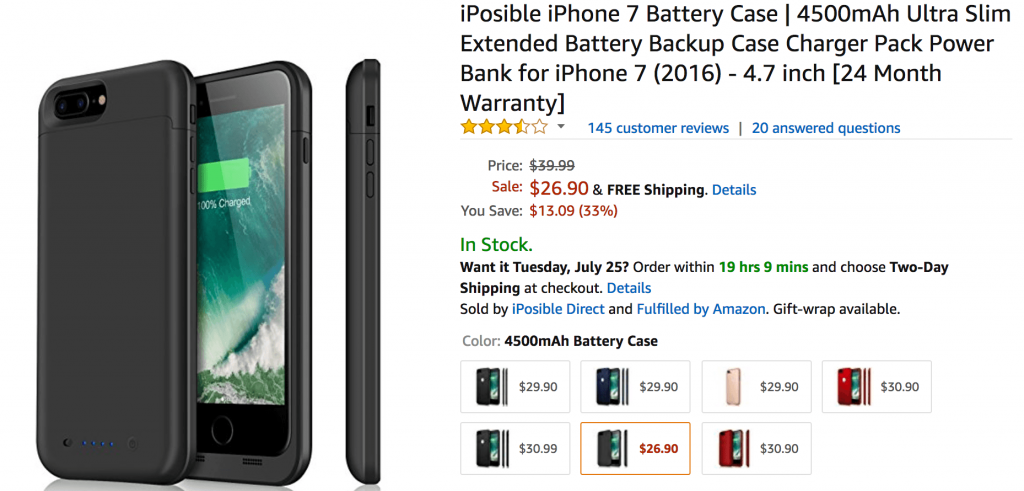 You don't have to be big like Amazon to start selling and make profit like this. You can start small and work towards becoming a big shot in the future. You can set up your own store today, too.
STEP 3: Set Up Your E-Commerce Website
This stage is as important as the others. If you are just going to sell niche products, you don't need to go for Prestashop or Magento – this is my own opinion anyway. They are too complex to get started with within minutes. If you want to start selling online within minutes, you should go for either WooCommerce or Shopify. Guess which one I am rooting for… Shopify. You've seen the example above and how much money out there for you to grab, just click here to try Shopify for FREE.

Shopify is fast growing and the time of write this post, it hosts over 450,000 online stores. Yes, more and more people are making the move. When I started with my online store, I did with WooCommerce. Even though I had so much knowledge of WordPress, there were still many challenges.
To use WooCommerce, you need to first buy a domain name, buy hosting, install WordPress, Install WooCommerce, and then start the learning curve of configuring and using WooCommerce. I have to tell you, it is also a bit confusing for customers who are already used to other type of eCommerce platforms. This can make you lose a good number of sales.
If you ask me, I'd say you should try Shopify. They take away the problem of hosting (you won't be having server issues) and installing eCommerce software. It is very easy to use and very mobile friendly (so people can order easily on their phones). More importantly, a lot of startup-friendly payment gateways integrate with it so that you can accept credit card payment. It also integrate with PayPal and allows you to create custom methods such as check and Cash on Delivery (COD).
You can get started right away going ahead to create your Shopify store now. They have a 7-day trial period for you to check if Shopify is right for you. So you can run your store for 7 days without even paying a dime. After, you can choose any of the 3 plans available to continue running your online store.
PS: I made my Shopify fee from the profit on selling a two items on my store and it happened on the first day of my trial period. How AWESOME is that!?!
STEP 4: How To Get Customers To Your Store
Simple! Use Facebook ads to push your products to targeted customers. Trust me, Facebook ads alone can do it for you but as you grow bigger, you may want to explore other options such as Google Adwords. By that time, you should be able to afford a Search Engine Optimization agency for your website.
They will help you optimize your website so that you will start getting customers from search engine. If you get your SEO straight, it appears you are just getting free traffic turned into money for you.
STEP 5: Collecting Payments From Customers
This can be quite tricky depending on which country you are based. Your customers need a means to pay you for the product they are buying from you. In countries like US, Canada and Australia, there are myriads of options when it comes to Payment Gateways.
In many African countries, you have to do some search. There will be at least one Payment Gateway available for your country. Shopify has a payment gateway but it is only available to a chosen few countries. Do a quick search for payment gateways that integrate with Shopify in your country. In Nigeria for example, you can use PayStack. Easy to register and integrate.
2Checkout is an American payment gateway which is available to all countries, you can apply after setting up your Shopify store. You can also make use of PayPal as another option depending on availability in your country.
STEP 6: Shipping and Fulfilling Customer Orders
This stage will come last. After you have set up your store and payment gateway, you can start promoting your store and the products you have on Social Media like Facebook, Instagram and Twitter. BBM Channels work fine too.
After you receive your order, you need to find a way to deliver to the customer. You can either find a way to do this yourself or outsource it. In every country, there are courier and delivery companies that partner with eCommerce startups to deliver orders to customers.
You don't have to use the almighty DHL and FedEx. You can simply do some search and find the indigenous services you have in your country. In Nigeria, I know of Courier Plus and KOS. I use them for delivery on my eCommerce website. Courier Plus even deliver to countries outside Nigeria. You just have to find the one available in your country.
I know this may not be THE comprehensive guide but it gives you an idea of how to start your own eCommerce website. Start selling online and make huge profits from your products.
If you have any questions from anything I have said in this article, please ask in the comment section. You can also follow me on Instagram and Twitter @mcmedal001.
What are you waiting for? Click here to try Shopify for FREE.
Get the latest updates from GeekishNG via email