You can now stop GTBank SMS alert without going to the banking mall. Often when we need to activate or deactivate a service or solve a problem with our bank (GTBank inclusive), we have to go to the bank.
In this case, there is another way to make GTBank stop sending you SMS notifications. You don't need to go to any of their branches to fix this.
Notifications from Banks on your account transactions could be sent either through SMS or E-mail. Bank transaction alerts via E-mails are free but the SMS alert options are charged per transaction.
SMS alerts are very helpful when it comes to tracking transactions on your bank accounts.
Why would you want to Deactivate GTBank SMS Alert?
The notifications you get for every single transaction on your account via SMS however will be charged and deducted from your bank account balance at the end of the month.
Banks charging more than normal rate
There is the issue of the banks charging more than the normal rate of SMS fee which should be ₦4 per SMS. This is especially true in the case of Guaranty Trust Bank as a lot of customers have alleged.
Considering they are a financial institution, they should be charging lesser. This is because they send a lot of these messages and sometimes in bulk (e.g. month end balance).
Multiple Charges
Many people who run SMEs know they can send bulk SMS to a large group for less than ₦4 per SMS so why should the bank not also. Unless they are able to prove that the cost is higher since each alert is unique.
There is another issue of multiple charges for SMS alerts that are related to one transaction. This could happen because you requested multiple times when there was a connection error/bad network.
In similar fashion, GTBank would send you notification for the actual transaction amount (credit/debit) and charge you. They also send a separate alert for the commission they charged. They can merge this into one SMS.
The rates might seem minimal but the bulk charge at the end might be astonishing if you carry out a lot of transactions during the month. As the popular saying goes, "little drops of water make a mighty ocean".
Risk Associated With Not Using SMS Alerts
The Central Bank of Nigeria Guide to Charge by Banks and Other Financial Institution in Nigeria published in 2017 which took effect from May 1, 2017, Section 10.9.1 makes it mandatory to have customers subscribed for SMS alert.
However, where a customer opts not to receive SMS alert, the customer should issue an indemnity (for losses that may arise as a result) to the bank.
You might say that is a very tricky clause. Like what could possibly go wrong with the money which you placed based on trust in the hands of a financial institution for safe keeping?
Well, a lot could happen. If some has access to your ATM card and PIN and they start withdrawing your money, not receiving SMS alert means that you won't know on time until it's too late. That is just an example.
What the CBN Says!
Anyway, the rate for SMS alert as stipulated in section 10.9.1 of the Central Bank of Nigeria Guide to Charge by Banks and Other Financial Institution in Nigeria 2017, is N4/sms.
"Not more than ₦4/SMS (fees on alerts are restricted to only customer-induced transactions). All associated notifications relating to a particular transaction should be consolidated into a single SMS alert."

Section 10.9.1 of the Central Bank of Nigeria Guide to Charge by Banks and Other Financial Institution in Nigeria 2017.
So, if you are a GTBank customer that is fed up with the SMS charges on bank transactions and wants to de-activate it without even taking a step towards any GT bank branches, then this article is for you.
De-activating the SMS alert can be done by going to any of the GT bank branch closest to you and fill out a form. An option which a lot of people find stressful because of the long queues at most GTbank branches.
You can also do the SMS notification deactivation on the internet banking platform of GBank.
How To Deactivate GTBank SMS Alert via the Internet Banking Platform:
1: Log in to the GT bank internet banking platform with your internet banking details. Click the link below to access it; https://ibank.gtbank.com/ibank3/login.aspx
2: Scroll down to the Self Service option
3: Select the Transaction Alert Activation
4: Choose the account you wish to carry out the deactivation on. If you have multiple accounts and want to deactivate SMS alerts on all, tick the Profile All My Accounts box
5: Select e-mail only under the Alert Type option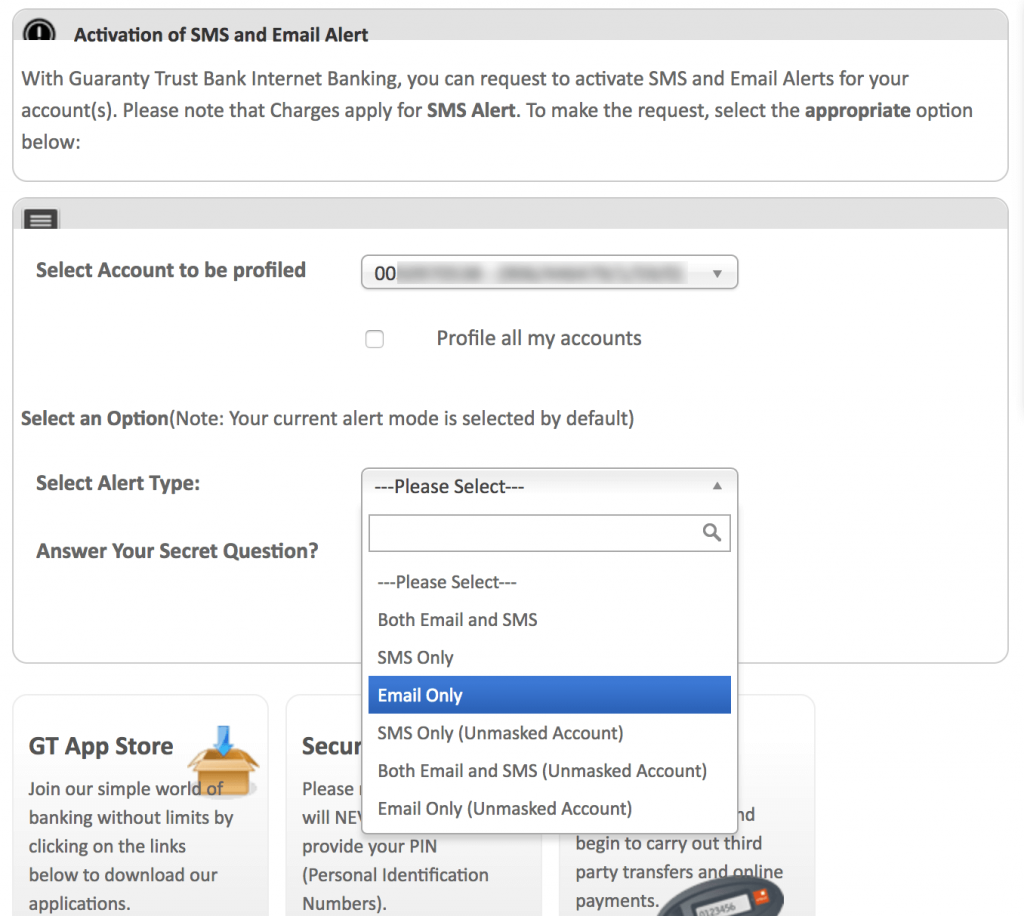 6: Answer your secret question (set during the registration of your internet banking profile) and click on submit.
It is as easy as that all from the comfort of your home or office. You can stop GTBank SMS alert right on your smartphone, tablet, laptop or desktop. You don't to go through the stress of long queues at the bank!!!
Get the latest updates from GeekishNG via email