Turning off Facebook Messenger online status (the green icon) is something that not every one knows they can easily do. I have heard people discuss this with friends and say they wish they could easily turn off their Facebook online status. Well, it is possible!
Usually, when people say this, they refer to the Messenger online status (green icons on the right in the image below). Of course, without that, it is almost impossible to know if someone is online on Facebook when they are not posting, liking or commenting on statuses and photos.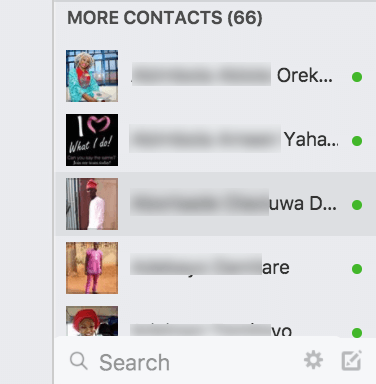 There are so many reasons why you might want people to not know you are online on Facebook but the summary is that you want to avoid some people. Perhaps, you don't want to reply a message yet or simply want to avoid people from starting a chat with you. Whatever reason you have, you can turn off online status on Facebook.
How To Turn off Facebook Messenger Online Status (Mobile App)
Unlike turning off online status on WhatsApp, this feature is available on Facebook but not activated by default. You can follow the steps below to activate the default offline status on your Facebook account. You will be doing this on your Facebook Messenger App on mobile. If you have access only on desktop, scroll down to the second method.
To turn chat off from Messenger:
Open the Messenger app
Tap 
Tap Active
Use the toggle at the top of the screen to turn chat on or off.
Note: When you turn chat off on Facebook, you'll still get your messages, but people won't see a
 next to your name, and you won't appear in the Active tab.
How To Hide Online Status On Facebook Chat From Specific Unwanted Friends (Desktop)
You may just want to turn off chat for some friends you are trying to avoid and not all friends on Facebook. If this is your aim, then the steps above will not be appropriate. What you would need to do is turn off chat for selected Facebook friends. The steps below will guide you to do that.
Open Facebook in a web browser and go to the list of all your contacts who are online on the bottom right hand side of the page.
Now, click on the gear icon from this bar, and click on Advanced Settings. You will now be able to see three options as follows (see image below):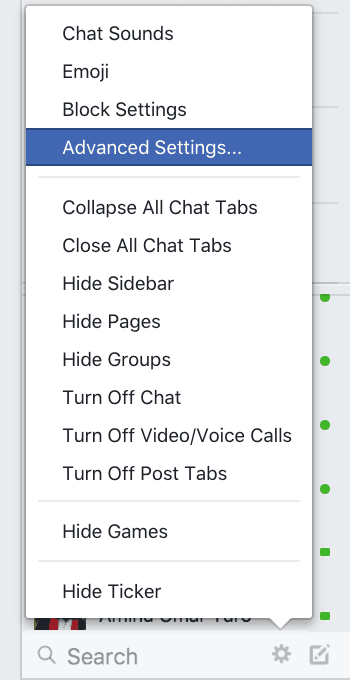 Turn on chat for all friends except
Turn on chat for only some friends
Turn off chat
The first option is what you will chose. In the search bar below that option, type in the name of the Facebook friend. As you type, Facebook will show you a list of friends with that name, choose those for whom you want to block Facebook chat and click Save.
If you want to turn it off for everyone, you select the last option there. This is exactly the first method we describe above, only that you will be doing it on Desktop instead of mobile.
Get the latest updates from GeekishNG via email