I am going to show you how to use external hard disk on Mac without formatting in this article. You don't have to delete the files you have on your external hard drive. This is a common problem for people who have been using an external storage device with a Windows computer before getting a Mac. You can write and read files on your external hard drive on Mac without formatting and losing all your files.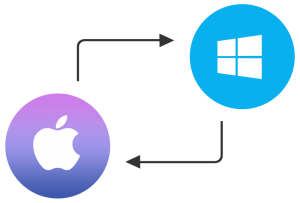 When you do a search about how to use your external hard disk on Macbook or iMac, the common piece of advice you would get is to format it. Yes, this is the easiest way to do it but it can come with a lot of problems for some people. I started looking for solutions like this when I came across these problems.
Why I Did Not Format My External Hard Disk To Use On My Macbook Pro
I bought a MacBook Pro with a disk space of only 256GB and wanted to copy some files from my external hard drive to it. I found out it was not possible because Mac computers use a different format from that of Windows. I quickly did some search and I read on several forums that I should format my disk.
The first step in this process involves copying all the files from your external hard drive to another storage device. Next, you need to format the disk to change it from NTFS to FAT32.
I would have done that willingly but I have a 2TB external hard disk with over 1 Terabyte of files. Where was I supposed to copy this in order to format the disk? It was not just possible for me. My Dell laptop which runs on Windows also has 256Gb SSD.
Another problem with using FAT32 is that the size of each individual file you can copy may not exceed 4GB…and I wanted a format I could use on Windows and Mac. So, what did I do?
How To Use External Hard Drive on Mac Without Formatting
As we have said earlier, OS X El Capitan or macOS Sierra cannot write to an NTFS (Windows) formatted drive, but it can read from it.  There is a however a "driver" available which will allow your Mac to write to NTFS-formatted drives.  This way you don't need to reformat your drive and lose data.
What do you need to do? Just download a piece of software called Tuxera and install on your Mac. Tuxera NTFS for Mac is compatible with macOS Sierra, OS X El Capitan, OS X Mavericks, OS X Yosemite, OS X Tiger, OS X Leopard, OS X Mountain Lion, OS X Lion and OS X Snow Leopard.
Tuxera NTFS for Mac allows you to access, edit, store and transfer files hassle-free. Includes Tuxera Disk Manager for easy formatting and hard drive maintenance such as check and repair.
You can watch the video below to see how to use Tuxera:
Let me tell at this point that the software is not free but it has a 15-day trial period. During this period you can see the software work. It will also solve the immediate transfer problem that you have. However, you need to pay $31.00 to continue using it.
It is the cost to purchase the license to use on your Mac and not a monthly payment. Therefore, I believe this is not expensive when you consider the problem you are trying to solve.
You can download Tuxera by going to – www.tuxera.com/products/tuxera-ntfs-for-mac/
Do you have another method of writing on your NTFS-formatted disk on Mac? Tell us in the comments! I know about Paragon NTFS for Mac but I have never used it, so I cannot write about it.
Get the latest updates from GeekishNG via email